Main Page
From Wars Wiki
Jump to navigation
Jump to search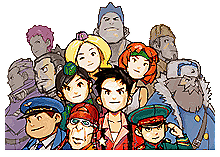 Welcome to Wars Wiki!
The encyclopedia for Nintendo Wars games that anyone can edit,
with 585 articles created since February 2009!
Today is Thursday September 21, 2023

Featured Article
---

Kindle is a Commanding Officer enlisted in the Black Hole army. Introduced in Advance Wars: Dual Strike, she is the second-in-command of the Bolt Guard, a trio of elite COs loyal to the new Black Hole commander, Von Bolt. Incredibly vain and egotistical, she uses the power of the Black Crystals to achieve "eternal beauty". A queen of property warfare, her units receive at least a 40% firepower boost at these locations. Although she is usually quite cruel and vindictive, she does show some sympathy towards Von Bolt's condition at the end of the game.
Latest News
---
September 20, 2023 - NIWA's Cross-Wiki Week 2023 begins September 23. For information on the event and how to participate (for the chance to win a Nintendo e-Shop card!), see Cross-Wiki Week 2023.
April 21, 2023 — Advance Wars 1+2: Re-Boot Camp has been released worldwide!
February 8, 2023 — Nintendo Direct announces updated release date for Advance Wars 1+2: Re-Boot Camp - April 21!
June 15, 2021 — At E3 Nintendo announces the release of Advance Wars 1+2: Re-Boot Camp for Nintendo Switch!
February 14, 2018 — Wars Wiki moves to new hosting with ABXY!
Ongoing Work
---
Attention! The Commander has compiled a list of objectives. Choose a target, and report all available intelligence!
Recruitment

- Spread the word far and wide! Wars Wiki will be grateful to all enlisted forces.

Most Wanted

- Analysts report insufficient intel on the following targets:

Infiltrate & Report

- Intelligence is lacking here, as well. Investigate a target, and report your findings!
A group of open-content encyclopedias based on the various Nintendo franchises.



Wars Wiki is a community-driven encyclopedia for all things Nintendo Wars
[

Famicom Wars

|

Game Boy Wars

|

Advance Wars

|

Battalion Wars

]