Wars Wiki:Allies
From Wars Wiki
Jump to navigation
Jump to search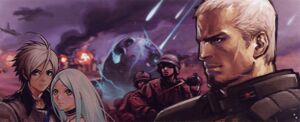 Wars Wiki needs YOU! Allies are always appreciated, and this page is for those who choose to ally themselves with Wars Wiki, whether you're a wiki or just an independent fansite.
To affiliate with us, please add to the Discussion page.
Wiki Allies
[
edit
]
These affiliates are fellow wikis who have decided to ally themselves with us.
Banner
Link
Description
NIWA members
Bulbapedia
The community-driven Pokémon encyclopedia.
Mario Wiki
The wiki for everything Mario.
Zelda Wiki.org
The online, collaborative encyclopedia covering the Legend of Zelda series.
Metroid Wiki
The wiki on everything Metroid.
WiKirby
It's a wiki. About Kirby.
Lylat Wiki
The up-and-coming wiki on the Star Fox series.
Pikipedia
Flower Power! The wiki for all things Pikmin.
Pikmin Fanon
Pikipedia's sister wiki for fan-made Pikmin creations.
StrategyWiki
The wide-reaching wiki for all video game walkthroughs.
SmashWiki
A wide-ranging wiki for everything about Super Smash Bros.
WikiBound
The wiki detailing the EarthBound/Mother games.
Donkey Kong Wiki
The name says it all! A wealth of knowledge about the DK universe.
Nookipedia
Nookipedia, the one-stop wiki about the Animal Crossing games.
Golden Sun Universe
An encyclopedia about everything related to Golden Sun.
NintendoWiki
A wiki about the company's games, people, patents, and other trivia.
Fire Emblem Wiki
An up-and-coming wiki for the Fire Emblem series.
Starfy Wiki
Everything about The Legendary Starfy series.
Mute City
Mute City, the wiki for everything about the F-Zero series.
Icaruspedia
An up-and-coming wiki dedicated to the Kid Icarus series.
NIWA affiliates
Gamehiker
The wide-reaching wiki covering Nintendo and its first- and second-party game series.
SEIWA
The Square Enix Independent Wiki Alliance, a sister network to NIWA.