Satellaview
From Wars Wiki
Jump to navigation
Jump to search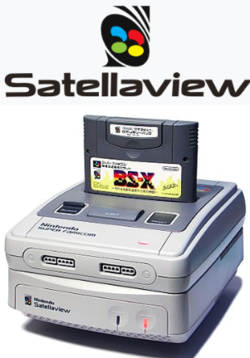 The Satellaview was a Japan-only add-on and service for the Super Famicom (Japanese Super Nintendo Entertainment System) which was a collaboration between Nintendo and the St. GIGA satellite radio company (a subsidiary of WOWOW Inc.). The service began on April 24, 1995 and was discontinued on June 30, 2000.
The Satellaview would offer many downloadable games and magazines (including obscure Nintendo owned games/IP), and featured special "SoundLink" capabilities for sending out real-time commentary for the games and magazines. A special demo of Super Famicom Wars was distributed through the service prior to its official release, known as Super Famicom Wars BS Han (Super Famicom Wars Broadcasting Satellite Version).
It used a "BS-X" cartridge, pre-installed with the interface software BS-X: Sore wa Namae o Nusumareta Machi no Monogatari, in which the player explores a town and accesses features of the service through monuments in the town. Data for games (and occasionally full playable games) was stored using storage cartridges known as Satellaview 8M Memory Packs. However, these normally have software-protection measures that renders the games unplayable after a specific number of plays, until they are downloaded again (officially impossible today).